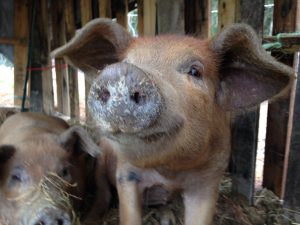 Attention all animal-loving yogis! Have you heard of Graze in Peace? This wonderful place is a farm animal sanctuary and care farm in Durham Maine. They offer lifelong homes to rescued farm animals. Their mission follows a similar path to yogic principles: founded in 2006 by vegan co-founders Deborah and Carl Schwink, the farm is dedicated to providing a caring home to rescued and unwanted farm animals. They also provide a space for healing, learning and reacquainting with personal power through nature for humans too – people are welcome to walk their grounds and observe the animals, as well as participate in programs designed to re-establish connection between human beings and animals traditionally considered food or livestock.
Hustle and Flow is humbled to offer a power flow class led by Liz Kovarsky at Graze in Peace on August 19th! Liz will guide participants through her loving, supportive power flow out on the farmland with a group of the farm residents – including pigs, sheep, chickens and llamas – as they do what farm animals do… enjoy the land and the abundance of nature.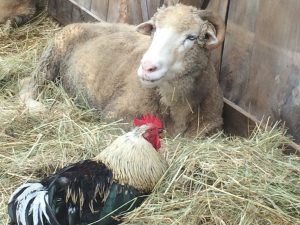 We humans spend a lot of time indoors, and we all know that it is healthy to get outside to a place where we can't hear cars whizzing past or sirens blaring. But it's also important for us to understand where our food comes from. Whether you are a meat eater, vegetarian, vegan or any shade of green in between, understanding the power of these animals is a gift.
For instance, did you know that at just two weeks old, piglets can recognize their mother's voice, and will run toward her when she calls them? Some mother pigs have been observed singing to their piglets when they're nursing. Plus, once adults, pigs can run up to 11 miles per hour. That's a five and a half minute mile – if you're a runner, you know how fast that is.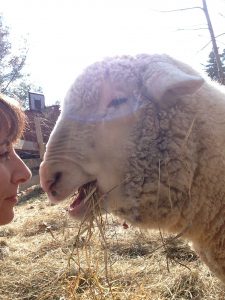 All of these animals have knowledge and power to share with us, and a story to tell about our culture's ideas about farm animals. I've never become acquainted with a pig, sheep or llama, but of the chickens I've known, some of them are cuddlers and want to be held or petted, while others are little jerks who are moody and unpredictable. Just like us! And just as there is a place for each of us, Graze in Peace makes a place for every farm animal they can accommodate who needs a healthy home.
Hustle and Flow will be donating a portion of the funds from this class to Graze in Peace to help support their operation and the expansion of the farm to help more animals and visitors. Please join us for this very special day of learning in the joy of movement with our four-legged and winged friends.
Graze in Peace Flow is on August 19th at 10:30 am at Graze in Peace in Durham Maine. Bring your own mat, water and anything else you may need for a yoga class. Purchase tickets here and we'll see you out under the sun!