Fitness at Hustle and Flow® in Portland, Maine
The best thing about the fitness classes at Hustle and Flow® is that you will forget you are working out! We have cultivated a very special exercise experience. We go hard, there's no doubt about that, but the amount of fun you will be having will distract you from the burn…most of the time. All classes are set to music to pump you up and get you energized. We like loud music and explicit lyrics, so don't be surprised when you come to class!
                                                                            Hustlercise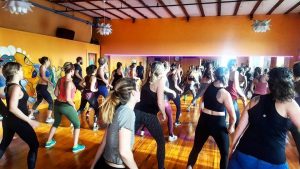 Hustlercise is an addictive, hybrid fusion of dance and strength moves make for a fierce and wild workout. As usual, the music will be loud and energetic. Each Instructor who teaches Hustlercise has their own style and music taste, but all classes will be sure to leave you covered in sweat and satisfied with a workout well done!
                                                                           Ass and Abs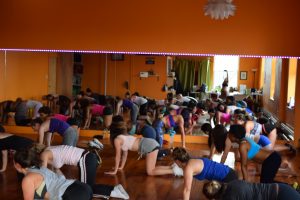 Incorporating Pilates movements and dance isolations, this class targets the glutes and core. You will engage these muscles through twists, lunges, squats and creative cardio and strength moves, ending with a long, full-body stretch sequence. 
SheBang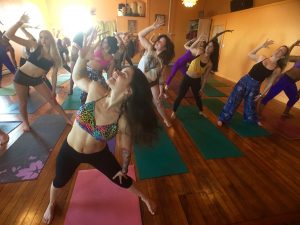 SheBang is a dynamic, fun and effective, all-encompassing workout experience. This class is designed to use effective athletic conditioning exercises and creative dance and yogic sequencing in a fluid and rhythmic flow. Creative cardio and strength intervals are infused with dance-inspired isolations to bring the whole SheBang to your workout!
Each class will be as unique as the teacher who leads it.
Collaboratively created by the Hustle and Flow® Instructors.
                                                                           Booty Camp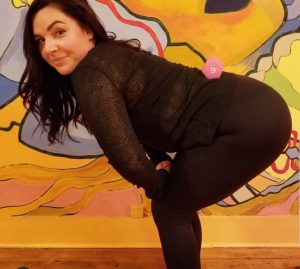 This Booty Camp class taps into your inner and outer strength, agility, balance, and flexibility. Empower yourself in this dynamic high energy cardio, strength and awareness class. This continuously flowing workout engages both the mind and the body leaving you feeling balanced, connected, and fierce. This class does incorporate mats.
Tramp Stamp 
This dance cardio and sculpting fusion class combines simple choreography to increase heart rate and make you sweat with the low impact benefits of the trampoline. … Build strength with dynamic movements on and off the tramp focusing on different muscle groups each class. Enjoy class set to the fire jams you can expect from Hustle and Flow in studio or virtually from home.