Pole Classes at Hustle and Flow in Portland, Maine
Please fully read this page before you sign up for a pole class! 
We offer a variety of classes from Intro to Pole Tricks, Level 1, 2-3 with inversions, and Pole Dance for Beginner and Intermediate students.
Our Intro to Pole Tricks classes are designed to start with fundamental movements such as walking, turning, basic grip and hand placement, spins, and building from there.
*3-5 Intro to Pole Tricks classes are required before Level 1 classes. Level 2 and Pole Dance Class must be Teacher approved. 
In Level 1 Pole Tricks learn transitions, combinations, and tricks on spin/static pole, strength and conditioning exercises and fundamental moves such as climbing will provide you with the tools to build strength, control, and fluidity to take it to the next level in your pole journey!
Pole Dance is a sensual dance choreography class where the same choreography is taught for 1 month.  Experience and teacher approval is needed.
Pole Dance Beginner and Intermediate
*Pole Dance Beginner is for students with no or Intro Level Pole experience. Heels and sexy attire recommended, but not required.
In this class we will focus on beginner transitions to build our choreography repertoire while also learning proper heel technique.
We will explore body rolls, turns and transitions, and basic floor-work whilst adding your own personal style to each sequence.
Knee pads and heels or socks required. Leggings are okay for this class.
*Pole Dance Intermediate This class is for experienced Pole Students who have been through Intro and are in Level 1.
*For both Pole Dance Classes you will learn a sensual pole choreography as a monthly series. You may drop in at any time, but the new choreography will be taught each month, like we do in our other dance classes.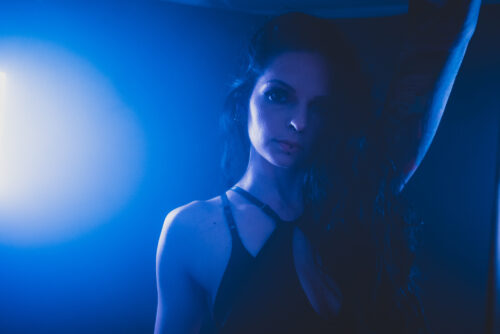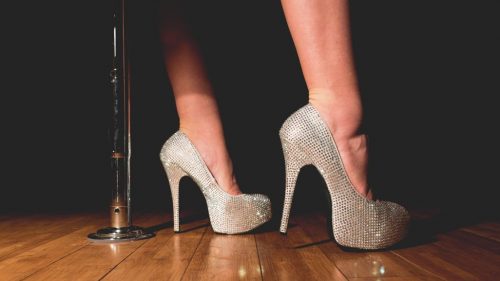 Before you sign up:
Pole classes have limited space and

require pre-registration on our MindBody App or site.

If you are waitlisted please make sure you have enabled

email and or text notifications

to ensure your class status updates. If you are not signed up for notifications WE DO NOT KNOW.  If you get bumped up into the waitlist, we assume you are coming and you are charged for that class. ***Students bumped up from the waitlist have 1 hour from the time they were bumped up to cancel.
If you do not show up OR cancel your reservation

12 hours or less before the class you will be charged.

If you receive a notification that you have been added to the class from the waitlist and you do not show up, you will be charged.
Membership holders will be charged $10 for "Late Cancel/No Show".
Class Etiquette:
Please arrive to your class up to 5 – 10 minutes early 

Our Yoga mats are up for use for you during class. Please spray your mat after use.

Please do not wear any lotion or oils the day of class. 

Do Not Touch

the mirrors!

Photos and videos are encouraged, after checking with the teacher and other students for consent.
Class Policies:
If you need to cancel or reschedule a class, you must do so 12 hours ahead of the scheduled class or you will lose that class.

Reservations are required using

MindBody

Online or the App.

If you miss the warm up at the beginning of class you will not be allowed to participate. Inadequate stretching can lead to injuries. 

Water is the only beverage allowed into the studio. Keep food to a minimum. No fruit peelings or remnants in the trash.  

When first attempting an inversion or climbing, an instructor must spot you. 

Mats and or spotting are required for all inversions. 
Studio Policies:​
​

We have a strict 12 hour cancelation policy for Pole Classes. If you cancel after the 12 hour window, you lose your class. 

All purchases are final, non-refundable, and non-transferrable. 

No outside shoes in the studio.

We will not be responsible for lost or items left behind, such as jewelry or shoes. 

Dress code: Students are encouraged to wear booty shorts and a sports bra. You will need skin to stick to the pole. Wear layers to see what works for you. 

All students must sign a waiver prior to participating. 

No one under the age of 18 is permitted into the studio to use the poles. Anyone under the age of 18 who accompanies you must remain in the hallway. Please don't bring anyone. There is no "watching class".

Services must be paid in full prior to the start of class.

You must have an instructor, not another student, show you moves.

Our class instructors teach proper and safe techniques. Please respect that our instructors are trained professionals  and it is important for everyone's safety that students do not instruct other students.

Students who appear to be under the influence of drugs or alcohol will be asked to leave immediately, no exceptions. 
PLEASE visit our "Be in the Know" page for full schedule class policies!
We take our policies very seriously as this class is limited and always have a waitlist.