I'm fresh off of Beto's new Reggae Beats Samba class (Monday nights at 6:30 to 7:30pm), and I'm left feeling fortified with kind, joyful, family energy. Beto is a wonderful movement instructor – his new class is a mix of Brazilian, Portuguese and African movements, and it would be enough to leave it there as a fun workout that really gets you sweating. His movement offerings range from simple side steps with swinging arms to more complex footwork coupled with gestures that invoked domesticities like cooking, sweeping or carrying a bag, or even an arm wave to embody the goddess of the ocean.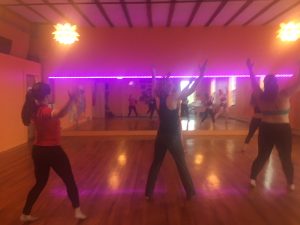 Beto is a storyteller, and he uses dance to share his heart, to show us who he is. Before class he was telling us how excited he was to see Brazilian food on the cover of Saveur magazine. It made me think about how I would feel to be living away from my home country, in a place where the customs differ so much from what I knew as a young person.
I'd probably want to connect with my home culture as much as possible. I'm proud of who I am, and my sense of place in the world is tied to my city of origin. I tell stories about New York all the time and get super angry about Maine Italian "sandwiches" because the sandwiches of my homeland are so far superior (yeah, I said it, come at me bro!).
For those who love to move, dance is as much of a way to tell a story as a meal, a piece of music, a book or a painting. As Beto guided us through our dances, he would take a moment to explain why he was choosing those movements, what they meant to him and to the culture from which the movement came. It makes me feel so connected to the dance when I know the purpose of a movement. I feel I can more fully embody the soul of the dance (if not the moves themselves… I'm a newbie!!) when I have a reason to move in a certain way, when my body is the carrier of a special narrative.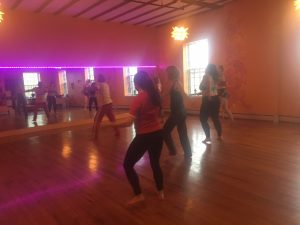 I'm a big believer in the energetic effects of moving your body in certain ways. Have you ever seen Amy Cuddy's Ted Talk about Power Posing, how our body language shapes our personalities? Beto's gift is that he always leaves his students feeling positive and beautiful, like goddesses! It's simply more than the sum of its parts.
There are some new offerings at Hustle and Flow as spring begins to bloom here in Maine! Check out Beto's new Reggae Beats Samba class on Mondays, followed by Carla's new Slow Grind Choreography class, which mixes the slow sensual movements of Slow Grind with some choreographed sequences. Same outfits apply (come as you are or come in your best sultry ensembles, but long socks or tights are encouraged, as Carla promises that we'll be sliiiiiiiiding around quite a bit), and expect a similar music selection as well.
Download the MINDBODY app to sign up for classes and we'll see you in the orange room soon!