That's right, it's time, y'all. Sit back, put your feet up, grab an ice cold Maine-brewed beer in a can (it stays cold longer that way), and turn up those sweet, funky tunes. Because it's time to hang and get sweaty with Hustle and Flow's OG and very own Fogcutter Jamie Colpoys!
Jamie is one of Hustle and Flow's most musical instructors – and that's saying a lot when it comes to this crew of musically-driven and inspired humans. She's strong and sturdy, but moving with Jamie is also music, embodied. Her subtle isolations and rhythmic combinations are often unique, hitting on unexpected places in a song's time signature or deliberately falling ever-so-slightly behind the beat, giving the movements that jazzy, swing dance-y feeling of being cool. She's a real hepcat!
Beyond being cool, though, Jamie's classes are HARD. You'll feel accomplished and proud of yourself when you get through one. But don't be scared! Jamie is also a thinker and a deeply spiritual instructor, and her energetic space is no-nonsense, non-judgmental and totally focused on the vibes and the movements – and not on whether we're all just rolling around on the floor trying to keep up.
Jamie's Wednesday night Yang Bang class is the second one I ever went to at Hustle and Flow, and I could barely do any of it, but I kept going every week (for a couple of years… shit takes time, y'all!) and now it still stands firm as my favorite way to get my midweek sweat on. Read on below for a little bit more about Jamie, – then check out the schedule and sign up for one of her Yang Bang, Hustlercise or       Hi-Vibes classes as soon as you can!
Teacher Spotlight: Jamie Colpoys!  
Teaches: Yang Bang, Hi-Vibes, Hustlercise
How did you come to teach at Hustle and Flow?
I met Carla back when we both worked for Pure Movement Portland and needless to say, we clicked! Through Carla, I met Stephanie, and again – instant click. At the time I met Steph she was kicking around the idea of opening a studio of her own and told her I was 100% on board to teach when the time came. I've been at Hustle and Flow ever since.
What informs your movement practice, what influences do you consider key to your practice?
I've been in the fitness industry for almost 15 years now, and I have taught everything from yoga, barre and Pilates to a trampoline class (yes trampolines! It was awesome). I draw from all of those practices when creating my classes and building sequences. My biggest influence, however, is music. My playlist helps me tap into my creative cauldron and drives my movements.
What do you do to prepare for class?
I put a lot of work into collecting music and creating playlists. I always set an intention for what I want to achieve in a particular class and then I build my playlist to reflect that. If on any given week I want Hi-Vibes to be focused on the heart chakra, you bet your ass there are going to be some sad songs on my playlist that night to break that fucker open. If I want Yang Bang to be a little more cardio focused, then I'll have some faster-paced songs. Generally, though, I decide on an essence of the class – do I want to do grounding work or do I need to do some lightening – and then I go from there.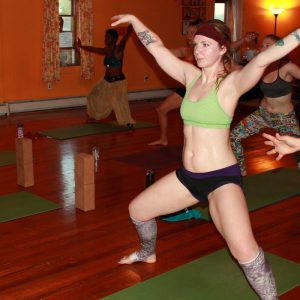 Tell us a little bit about yourself and your classes – what can we expect when we're in the room with you, what do you hope for us to take away from your class, or what kind of music or movements are you into right now? Or anything else you'd like to tell us about your life, hobbies or interests!
About me as a teacher: I'm intense. I'll push you, I'm a no-bullshit type of gal and I swear a lot. I know lots of sneaky ways to make you feel muscles you didn't know that you have, but I have a blast when I teach and I think that comes through. Music is everything in my life and in my classes. I play a lot of EDM, drum and bass, ambient dub, dark dub, acid breaks, dancehall, and alternative music. I also play the trombone in a 19 piece band called The Fogcutters and play keys/sing in a 80s/90s cover band called Party Time Excellent. My goal as a teacher is to have you walk out of my class feeling better than when you walked in. I go full beast mode when teaching Yang Bang and Hustlercise and I promise you will leave feeling energized and VERY sweaty. With Hi-Vibes I let my inner hippie and softer side run the show. The class is not as focused on the physical body as it is the spiritual, energetic and emotional body. Whatever class you choose to take with me, it will be deeply connected to the music in the room and I will be pumped to share some good vibes with you.