Hi everyone! Did you get to the PRIDE Parade this year? If you didn't you're a big dummy, because here are some of the sweet booties you missed:
So proud of this crew!! #pride 2018!!

Posted by Hustle and Flow on Saturday, June 16, 2018
And, not to brag, but for the second year in a row, Hustle and Flow won the award for Best Walking Entry in the PRIDE Parade!  Here's Steph flexing her trophy: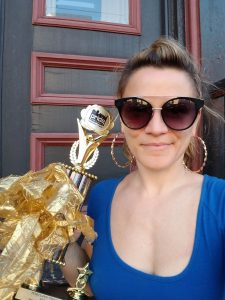 But aside from being the kind of badass crew leader that knows how to choreograph and costume to make an impression on the parade judges, Steph Harmon is one of my local heroes, and here's why: she creates safe spaces.
What is a safe space? A safe space is a place in which you can relax. It is a place, physical or metaphorical, in which a person or group of people can be confident that they will not encounter discrimination, bigotry, criticism, harassment, judgment, emotional manipulation, spiritual confrontation, or any other kind of harm. Though no space is ever truly 100% safe, in a safe space, you can relax, knowing that it is just fine to be whatever you are in that moment. In fact, it's more than just fine – it's appreciated, supported, loved and cared for.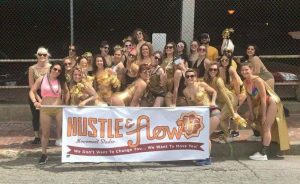 At the very basic level, Hustle and Flow is a safe space because Steph herself, along with Studio Manager Carla and their team of instructors, holds the boundaries for us. She has hired a crew of like-minded, strong individuals who do not tolerate otherism of any kind. On a daily basis, that manifests itself as an environment in which all bodies of all abilities are welcome to move in whatever way we wish, to wear whatever we wish, and to try our best or not try at all to move with our little family.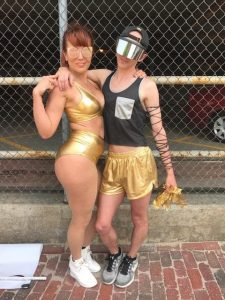 At the PRIDE parade, it manifested itself on the streets – 36 people dressed similarly to show our bond publicly, marching together to show solidarity with each other and with everyone who chose to show up and celebrate the great mother riot that gave birth to PRIDE itself.
But safe spaces are also about learning, evolving. After the parade, we sat on the lawn in Deering Oaks Park at the festival and listened to some pretty great humans speak about what PRIDE means to them, about what goes into planning such a large event, and about the challenges that they meet every day. We heard about people's heroes, their hard work, their dedication to a cause, their interpretations of what PRIDE means, and we were reminded of – if not introduced for the first time to – the deep roots and branches that people who love and care for marginalized people in our community have grown.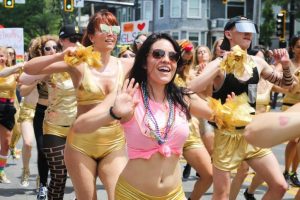 It was a beautiful day that brought our strength out of each other too. I had the opportunity to talk to other students and instructors at H+F and we shared our own challenges, worries, needs, and cares. Sometimes, nothing feels more like love than this simple safe sharing and appreciation.
PRIDE makes it easy for us to take a stand; it is a fun, colorful month of celebration that invites music, costumes, parties and open love and sharing of all kinds. While its origins are in deep suffering, it has evolved into a celebration of positivity. We're lucky to have access to this kind of community event. But as we were reminded of during the post-parade festival, this celebration would never have existed without already vulnerable people putting themselves in harm's way in order to take a stand for what they believe in.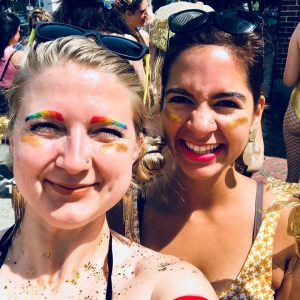 I keep thinking about this as I learn more and more every day about the horrors of child detention at our borders, and I keep thinking about this as I consider school shootings, mass incarceration of people of color, institutionalized rape culture and many of the ills that cause our communities to be sick, and to suffer. Marsha P. Johnson, the transwoman of color who was one of just a few vanguards at the Stonewall riots, lived below the poverty level and often turned to survival work as a means to make ends meet. Throughout her tragically short life, she was an outspoken activist and public figure in her community who also struggled with mental health issues. In spite of her vulnerable economic and social position, she fought, and she led, and she offered her gratitude. She was, simply, a hero.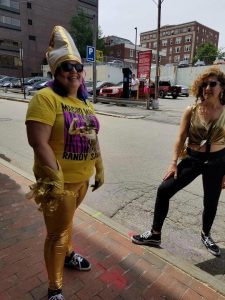 As we enjoy the warmth in our hearts that PRIDE left us with this past weekend, I am considering how I can have an impact, how I can stand up for what I know is right and good. I look to heroes of every kind, from fearless fighters like Marsha to conscious caregivers like Steph, and I draw the energy I need to take the steps in my heart to come to the front lines of the things that I care about. I look around me at the strong safe space created by my fellow Hustlettes, and I feel even stronger in whatever fight I'm on the front lines of; grateful doesn't begin to describe it.
I truly hope you'll join me on a mat, on your feet, or on the floor in the orange room soon. I can't wait to meet you!