We're drawing near the end of our Teacher Spotlights here at Hustle and Flow, and I'd be lying if I said I weren't already beginning to miss them! I've been so very much enjoying the honor and privilege of spending time writing about, being curious about, and taking classes with each of these movement instructors and inspirational people. It's true, we still have a couple of rad humans to hang with before we wrap up this awesome series honoring the amazing minds, bodies and souls of Hustle and Flow's teacher team, but since I'm starting to get a little misty about it… it only seems fitting to preface Yang Bang instructor and lover of 90's hip hop (and slow jamz) Tanya with this hard hitter to which I may or may not have (I definitely did) slow danced at a prom I went to with a football player named Neil in 1993:
But back to the lady of the hour! One of the most delightful things about Tanya Grigsby is that you'll never see her coming. She rolls into the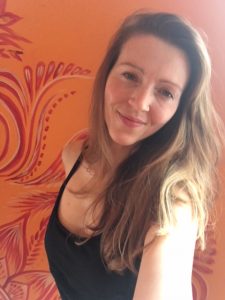 studio looking like she just stepped out of the pages of the latest issue of Yoga Journal, but then her wacky, off-kilter sense of humor and grounded, practical approach to movement shines through, crushing all those old yogi stereotypes. She's simultaneously graceful and absolutely tough as nails, serene yet boisterous, supportive but silly. And the woman certainly has upscale style, but don't let that intimidate you! Tanya's classes are an intense workout with a fantastic, welcoming vibe, sensitivity, compassion, and totally killer soundtracks.
Read on below for a little bit about Tanya, – then check out the schedule and sign up for her Yang Bang Express class next week (this week the amazing Sam is subbing for Tanya)!
Teacher Spotlight: Tanya Grigsby!
Teaches: Yang Bang Express
How did you come to teach at Hustle and Flow?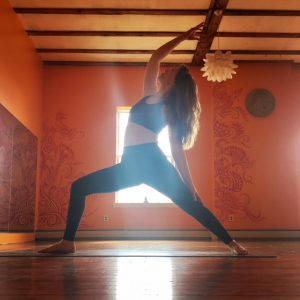 Back in 2014, I was in a place where I was looking for something fresh and new for movement and exercise. A friend had suggested trying Buti Yoga and that's when I found Hustle and Flow. I quickly fell in love with the classes they offered and even more, I fell in love with the vibe of the studio and how welcoming everyone was. I immediately got myself a monthly unlimited class pass because I wanted to be there as much as possible!
It wasn't long before I started to really feel this unbelievable connection between my mind, body and soul. I felt so strong and so inspired that it led me to wanting to share the gift of movement with others. After completing my 200hr yoga teacher training and becoming certified to teach Buti Yoga, I started to sub for teachers at the studio and that eventually led to some regular spots on the schedule. I have felt so honored and happy to guide others through movement and I'm beyond grateful for my H+F family! Being a student and a teacher in this studio has been such a gift to me in so many ways. It has changed my life in ways I never thought possible.
What informs your movement practice, what influences do you consider key to your practice?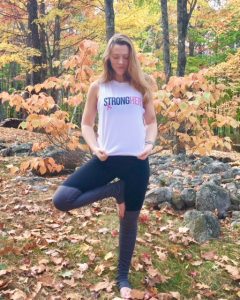 Without a doubt, my fellow teachers at H+F have been a huge influence. Through all the classes I've taken at the studio, I have enjoyed experiencing how each teacher has their own style and vibe. I love this because it has inspired me to not be afraid to rock my own style as I've been on my journey as a teacher. My movement practice has most definitely also been shaped by my experiences of being a student in various types of yoga and dance throughout the years leading up to coming to H+F (ballet, tap, jazz, hip hop & modern dance).
There are a bunch of Instagram and YouTube accounts that I follow for inspiration (including our own H+F peeps, of course). Across these accounts, I can see various types of yoga, so many different kinds of dance, lots and lots of music, various types of artists/art, fusions of movements, fashion, funny memes, inspirational quotes and so on. If I see something I like, I try to figure out how I can incorporate it into my own practice and classes that I teach each week.
What do you do to prepare for class?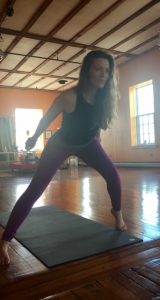 I dive into all the music and the playlists! I've been making playlists since the late 80's (back when we had to use cassette tapes and they were known as "mixtapes"…haha) and it has always been one of my absolute favorite things to do! I put a lot of love and care into curating my class playlists, as I know it plays a significant part in the energy and flow of a class. I get to know the music and the order of songs in my playlists, so I'll know where to go with the intensity of the movement. I also love to test drive songs, so to speak. Meaning – I put the song on, then I get up and see how it makes me want to move. If I'm feeling it, it makes the list! As I mentioned before, I also enjoy watching videos of other movers and shakers to get some inspo for classes.
Tell us a little bit about yourself and your classes – what can we expect when we're in the room with you, what do you hope for us to take away from your class, or what kind of music or movements are you into right now? Or anything else you'd like to tell us about your life, hobbies or interests!
I usually like to tell any of the new folks who attend my classes to not be afraid to laugh at themselves a little. As a student and as a teacher, I have found it helpful to be able to get silly sometimes and not take things so seriously. I think that's an ongoing part of the practice, to be able to let go and have some fun while you get your sweat on. That's certainly one of my hopes for the students who come to my classes! For music lately, I've been inspired by some of the dj sets from Ultra Music Festival 2018. No matter where I'm getting music inspo from, I'm pretty much always going down Spotify playlist black holes! As far as movements I'm into right now, it's a mix of dance and yoga accounts that I follow out on Instagram and/or YouTube. So much to see!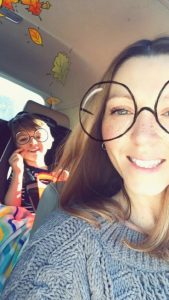 A little more about myself: I live with my family in Raymond, Maine. Between being a mom of an active 4-year old boy, teaching yoga/movement classes and working in the Windham/Raymond school district, I have a pretty busy schedule. All the fun! Some of the other things I love: summertime in Maine, sunsets, my fur-babies, dancing, karaoke, going to the drive-in and camping! I'd just like to add that after going through breast cancer and having a c-section with my baby, my yoga/movement practice has been an incredible and powerful medicine. It has helped me re-establish the connection between my mind, body and soul. I think it's so important to find a movement practice that works for YOU! I always like to encourage people to try to find a movement/practice that they actually like. I'm grateful to have found mine at Hustle and Flow.
Sign up for Yang Bang Express Here! We'll see you in the orange room soon!