We're at number nine, and that's just fine! This week in Hustle and Flow's Teacher Spotlights, we're hanging with one of Hustle and Flow's most unique instructors – Beto Guimares! If you could bottle and sell someone's energy, Beto would make millions on his! In his Brazilian Samba class, Beto brings you the gorgeous, flowing, energetic classic dance of Brazil – but he also brings you self love, enthusiasm, compassion and care… and hugs! Free hugs and beautiful words of encouragement at the end of class, always. It's pretty amazing.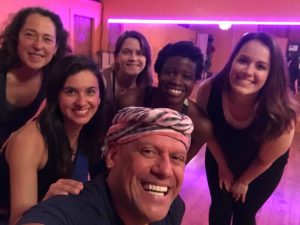 Samba is one of those dances that is so easy to do as a first timer. If you have sass and razzmatazz in your heart, you're all set. But it also takes a lifetime of study to master. Beto is an incredible teacher who knows this and keeps the class as fun for newcomers as for weekly addicts. Samba at Hustle and Flow is truly an all skill levels, come as you are movement practice. Plus, it's an amazing workout, and if you're doing a lot of yang bang and hip hop, it's quite restorative in that it challenges different muscle groups while providing an excellent light cardio workout. Samba keeps you on your toes!
Read below for a little bit about Beto, – then check out the schedule and sign up for his Brazilian Beats Samba class this week!
Teacher Spotlight: Beto Guimares!
Teaches: Brazilian Beats Samba
How did you come to teach at Hustle and Flow?
I came to teach at Hustle and Flow through a invitation from Steph the owner of HF after I thought a Brazilian Dance workshop few years ago!!! I have been teaching at HF since October 2017! I call my class SAMBA ME 🇧🇷
What informs your movement practice, what influences do you consider key to your practice?
I am Brazilian!! So my culture influences me to practice my dance! I bring to my classes the movements from the street dances from Mardi Gras, parties and festivals from Brazil..!
What do you do to prepare for class?
I prepare my classes listening to the music from Brazil, choosing easy steps and trying to bring to my students the joy and stimulation to discover the beautiful Brazilian Culture!!!
Tell us a little bit about yourself and your classes – what can we expect when we're in the room with you, what do you hope for us to take away from your class, or what kind of music or movements are you into right now? Or anything else you'd like to tell us about your life, hobbies or interests!
I was born and raised in the town of Olinda in the Northeastern state of Pernambuco in Brazil! I have been teaching Afro Brazilian Dance for over 25 years in schools, universities, dance studios, festivals and shows nationally and internationally!
You can expect in my class lots of energy, happiness, and satisfaction to learn the magic of Brazilian Culture! All levels and dance experience are welcome in my classes!!!  Right now I am trying to introduce the Brazilian Samba in Portland Maine with the beautiful contagious rhythm of the Brazilian Samba!!! Dance is my passion and I love to spread my happiness all over to everybody!!!!