Workshops & Pop-Ups at Hustle and Flow® in Portland, Maine
What does your Friday night look like? Every Friday night Hustle and Flow® hosts a Pop-Up Class or Workshop for a different, end of week experience. What's the difference? So happy you asked! A Pop-Up is like a regular class, but on a special night, meaning the price is the same as a drop in and your class passes are valid. A Workshop, however, is usually a bit longer, has a different price and may feature a guest teacher! 
 January Pop-Ups and Workshops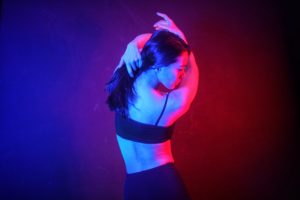 Heavily rooted in contemporary style, this choreographed class will also blend hip hop, modern, and other dance styles as well.
Each month we will dance to a different song and tap into a different feeling. No experience required. This class is all about emotional expression through dance allowing you a chance not only to try something new but to experience the cathartic and blissful feeling of putting your heart and soul into movement.
Beat Drop Dance Fusion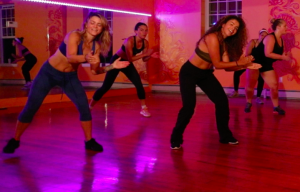 This choreography class is a mixture of high energy dance moves, inspired by Hip Hop, Contemporary and West African Dance. We warm-up, break down choreography, DANCE and cool down. Dance choreography changes monthly. You can drop into any class during the month. Some dance experience is helpful, but all levels welcome!
Hustle Heels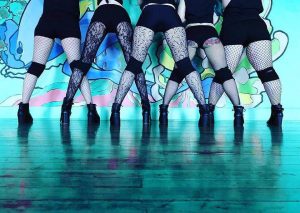 Dance Choreography in heels with elements of Contemporary, Lyrical and Hip Hop Dance and all the booty shaking and hair whips Hustle and Flow® is so well known for. Alyx will warm you up, take you across the floor, you'll learn a combo and cool down!
*Heels recommended, but not required. Soft knee pads sometimes needed. All are welcome.
Bellydance~Pop, Lock, and Flow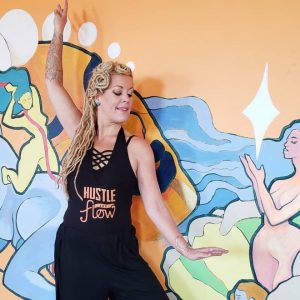 This Fusion Bellydance class is a fun mixture of classic and modern movements inspired by Bellydance styles found throughout the Middle East and North Africa, as well as modern American fusion dance styles with elements of contemporary dance, hip-hop, Flamenco, Indian dances, various African, and more!
 Pole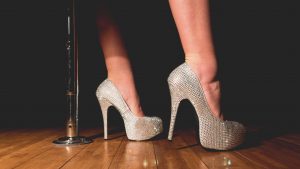 Become familiar with fundamental movements such as walking, turning, basic grip and hand placement, spins, and more in our Intro class.
In Beginner Pole learn transitions, combinations, and tricks on spin/static pole, strength and conditioning exercises and fundamental moves such as climbing will provide you with the tools to build strength, control, and fluidity to take it to the next level in your pole journey!